Skip Side Navigation
Zoom is a very powerful, yet easy to use video conferencing solution. In addition to standard audio/video conferencing, Zoom includes screen sharing, collaborative whiteboarding, and recording.
Zoom is available for Windows, Mac, iOS, and Android.

Click here to sign in to your OU Zoom account.
Click here to download Zoom Client for Meetings.
When prompted to sign in to the Zoom app, choose Sign in with SSO and use your OU email address, or enter "oklahoma" for the company domain.
If you wish to record your Zoom meeting, Zoom's Record to Cloud option will send your recording directly to your OU MyMedia account. However, you can also record the meeting to your computer if you wish to use the recording in other ways. For example, you can upload the recording to YouTube if you wish.
The following guide explains how to record a Zoom meeting locally to your computer, as well as how to upload the resulting video file to YouTube and embed the YouTube video in Canvas.
The Zoom Video Conferencing app is not only a great tool for video meetings, but it can also function as a standalone recorder for video presentations. By initiating a "video conference" without any other participants, you have access to all of Zoom's tools including screen recording, white boarding, and recording.
Click here for a quick guide to using Zoom to Record Presentations
Click here to download Zoom Client for Meetings
This video explains how to setup and use Zoom as a video presentation recorder. The following topics are covered: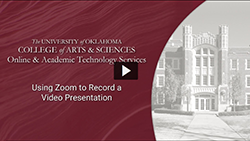 Preparing a Powerpoint presentation for Zoom recording
Screen sharing in Zoom
Recording in Zoom
Basic Zoom controls
Zoom recording file location
Using Zoom Breakout Rooms
Breakout Rooms are a great way to incorporate group discussions into a Zoom session. Breakout Rooms can also be used to have private sessions with a single student without switching to a different Zoom session.
You may need to first enable Breakout Rooms for your Zoom account.