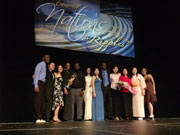 37th Eve of Nations
"Ripples"
Presidents' Retreat, International Bazaar and the 37th Eve of Nations were a great success.
IAC Execs 2007 -2008
The International Advisory Committee is an executive student body that represents the international students, and coordinates the efforts of the international student organizations. There are approximately 2000 international students on campus. These students need a voice to represent them, and the IAC accepts the responsibility of being that voice.

What do we do? During the year, IAC works with various student organizations (international and otherwise) to bring you such events as the International Bazaar, the International Food Fair, and, most importantly, the Eve of Nations. The Eve of Nations is a culmination of your international experience at OU, a grandiose extravaganza, with dignitaries, spicy foods, colorful attires, exotic music and dance, and lots of awards that we compete for all year long.

In recent years, IAC also took action on such important issues as health insurance, housing, phone rates, and scholarships. In fact, in 1997 IAC established an Emergency Relief Fund Scholarship, followed by an Emergency Relief Fund Endowment Scholarship in 2000. IAC is looking forward to an eventful and fun year. So come to our events, and check out in how many languages we can say 'Welcome'.
900 Asp Ave, OMU 386; Norman, OK-73019
Phone: 405-325-8478 Fax: 405-325-7387 Email: iac@ou.edu
Webmaster | hits since May 2006