Skip Side Navigation

Canvas Teaching Tips are distributed by the Dodge Family College of Arts and Sciences Online and Academic Technology Services office and offer SHORT helpful tips about Canvas, online learning, and academic technology.
Click here for more Canvas Teaching Tips
---
Control Access to Content
Canvas has many great tools for posting content, but what if you want to help students access content at the right time and/or in the right order?
ANSWER: Use Modules and Module Settings!
MODULE SETTINGS LET YOU:
Set a date for the release of content
Provide a visual way for students to see what they have completed
Require students to move through items sequentially
Require students to complete tasks prior to the release of other content
---
EXAMPLE
The image below shows an example of what a student sees when prerequisites & requirements are being used. The student is clearly shown what they have completed and what is still unfinished or overdue.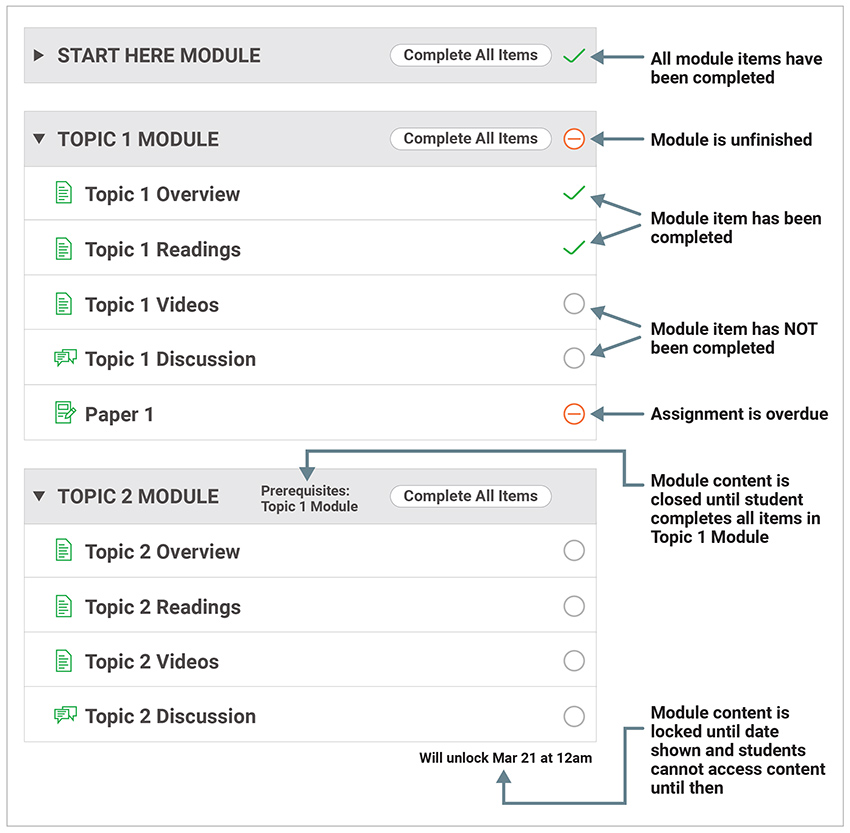 Canvas help is easy to find and always available. Click the Help button in the Canvas global navigation for 24 hour support and great help guides.
---
If you'd like to learn more about this Canvas tip, or Canvas in general, please contact our office at 405.325.5854 or casonline@ou.edu.