Skip Side Navigation

Canvas Teaching Tips are distributed by the Dodge Family College of Arts and Sciences Online and Academic Technology Services office and offer SHORT helpful tips about Canvas, online learning, and academic technology.
Click here for more Canvas Teaching Tips
---
Create a Checklist in Canvas
Did you know you can create a checklist in Canvas using the Quizzes tool?
Checklists work great for:
A course Getting Started list

Steps to complete an assignment

Student acknowledgment of completed items in a module

A list of items to view and turn in each week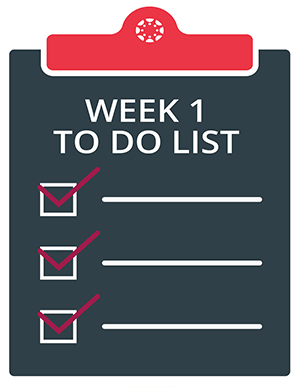 HOW TO:
Create a quiz selecting the "Classic" quiz option

Create multiple choice quiz questions

For each question include a "To do" item

In the answer for each question create two responses (such as done/not done, complete/incomplete)

For the quiz settings:

Include instructions so students understand how to take the quiz and that they can come and go in the quiz until they complete all items and are ready to submit them (see the example quizzes below for wording)

Do not include a time limit

Select "Allow Multiple Attempts" and choose to keep the "Highest" quiz score

Canvas help is easy to find and always available. Click the Help button in the Canvas global navigation for 24 hour support and great help guides.
---
If you'd like to learn more about this Canvas tip, or Canvas in general, please contact our office at 405.325.5854 or casonline@ou.edu.