Skip Side Navigation

Canvas Teaching Tips are distributed by the Dodge Family College of Arts and Sciences Online and Academic Technology Services office and offer SHORT helpful tips about Canvas, online learning, and academic technology.
Click here for more Canvas Teaching Tips
---
Create Your Own Content in Canvas
Canvas Pages provide an opportunity for you to create and design your own content right in Canvas. They are a great place to store educational resources your students need to access, whether you teach face-to-face or online.
Pages are simple to use and easy to share in the Modules area, and can be linked to from anywhere in the course (including from an announcement, the home page, or an assignment).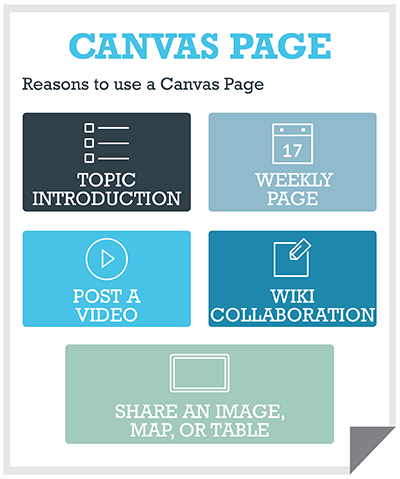 Here are some ways you can use pages:
Introduce a topic or reading
Create a weekly page
Embed a video or post a link and include introductory text
Insert an image, map, or table and explain its importance
Allow students to collaborate on a specific topic by using the wiki feature of pages
Link to other pages or items in the course from a page
Oops!
Did you know Canvas keeps the history of each page? If you mess up while editing a page, you can go back to a previous version. (How do I view the history of a page in a course?)

Canvas help is easy to find and always available. Click the Help button in the Canvas global navigation for 24 hour support and great help guides.
---
If you'd like to learn more about this Canvas tip, or Canvas in general, please contact our office at 405.325.5854 or casonline@ou.edu.