Skip Side Navigation

Canvas Teaching Tips are distributed by the Dodge Family College of Arts and Sciences Online and Academic Technology Services office and offer SHORT helpful tips about Canvas, online learning, and academic technology.
Click here for more Canvas Teaching Tips
---
Setting up the Home Page & Navigation
The HOME PAGE and the course NAVIGATION are two of the first elements students see when entering a course in Canvas.
Making best use of these tools will help create a great learning space for students and reduce confusion and frustration.
---
NAVIGATION
In order to make it easier for students, navigation should be set to include only the items they will use. Typically this includes the following items, but it will depend on how each instructor is using Canvas for the course.
Home
Announcements
Modules
Assignments
Grades
People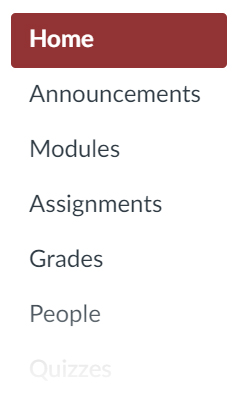 ---
HOME PAGE
There are several different options for a home page in Canvas. For many courses, the Front Page option works very well. An instructor can design a page in Canvas and then assign it as the Front Page. This page could include helpful information for students and serve as a landing page for the course.
The following are some suggested items to include on a home page:
Introduce the course
Explain how to use the course
Link to important items
Display contact information
Steps and How to Guides for creating a custom Home Page:
Please Note: Our office has home page templates available and can help with creating home pages. Contact us at casonline@ou.edu or (405) 325-5854 for home page assistance.
---

Welcomes students to your course

Reduces student clutter, confusion, and frustration

Provides clear direction
---

Canvas help is easy to find and always available. Click the Help button in the Canvas global navigation for 24 hour support and great help guides.
---
If you'd like to learn more about this Canvas tip, or Canvas in general, please contact our office at 405.325.5854 or casonline@ou.edu.