Skip Side Navigation

Canvas Teaching Tips are distributed by the Dodge Family College of Arts and Sciences Online and Academic Technology Services office and offer SHORT helpful tips about Canvas, online learning, and academic technology.
Click here for more Canvas Teaching Tips
---
What is inline document viewing in Canvas? Inline viewing opens a document right on a page without a student having to click a link or download the document.
By using the "Preview inline" display option, you can create a page, write an introduction, and then link to a document in Canvas* that will open automatically just below your text. This works great for articles, presentations, and any other information you want students to view.
Click here to view an example: Document Link Viewing Options (See "View Option 2")
* The document they will be viewing needs to be saved in the files area of Canvas.
Note regarding PowerPoint: It is usually best to convert a PowerPoint to PDF before you post it in Canvas. The file will open much quicker. There is also less of a chance that the text and layout will be distorted by the document viewer when it is posted as a PDF instead of a PowerPoint document.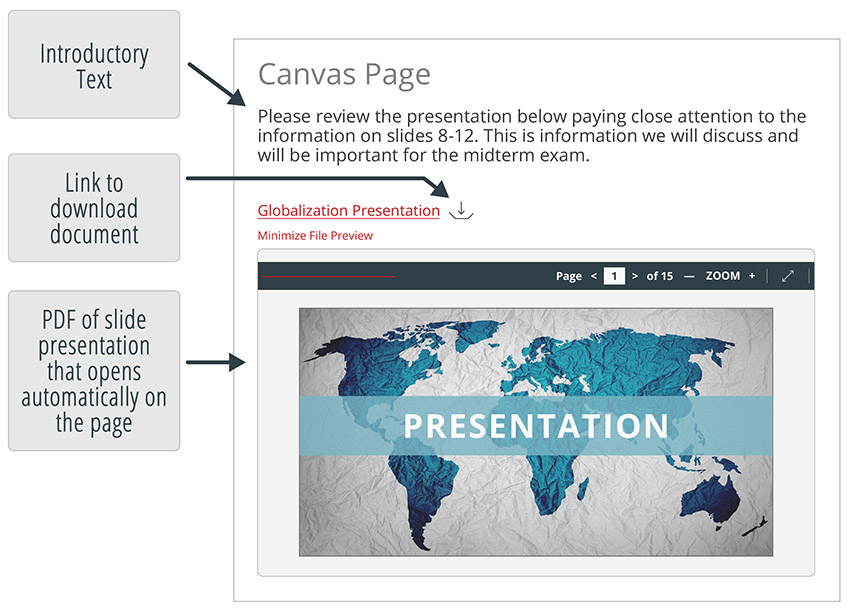 Canvas help is easy to find and always available. Click the Help button in the Canvas global navigation for 24 hour support and great help guides.
---
If you'd like to learn more about this Canvas tip, or Canvas in general, please contact our office at 405.325.5854 or casonline@ou.edu.