- BACK TO LISTING -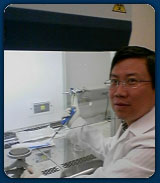 Chuanbin Mao
Presidential Professor & George Lynn Cross Professor, Chemistry & Biochemistry
Stephenson Life Sciences Research Center 3310
405-325-4385
cbmao at ou dot edu
https://www.ou.edu/cas/chemistry/people/faculty/chuanbin-mao
Ph.D., Materials Chemistry- Northeastern University, China, 1997
RESEARCH:
As a biomacromolecule assembled from proteins and nucleic acids, phage can be genetically engineered to display foreign peptides site-specifically on the surface, enabling us to tune its surface chemistries to control its self-assembly behavior, recognition against mammalian cells, and interaction with synthetic or biological molecules/materials. My research integrates phage bioengineering, phage display, and nanotechnology to develop biomaterials, nanobiotechnology, nanomedicine, and regenerative medicine. Specifically, my research group is actively employing genetically engineered phages to develop novel nanobiomaterials, understand bio-nano interactions, deliver drugs for cancer therapy, direct stem cell fate, and induce tissue formation. For example, in the context of neurobiology, my research is focused on the use of nanotechnology in directing the fate of neural stem cells and regenerating nerve tissues.
Selected Publications:
Li, Y., Qu, X., Cao, B., Yang, T., Bao, Q., Yue, H., Zhang, L., Zhang, G., Wang, L., Qiu, P., Zhou, N., Yang, M., Mao, C. B. (2020) Selectively suppressing tumor angiogenesis for targeted breast cancer therapy by genetically engineered phage. Advanced Materials 32: 2001260.
Zhou, N., Li, Y., Loveland, C. H., Wilson, M. J., Cao, B., Qiu, P., Yang, M., Mao. C. B. (2019) Hierarchical ordered assembly of genetically modifiable viruses into nanoridge-in-microridge structures. Advanced Materials 31: 1905577.
Cao, B., Li, Y., Yang, T., Bao, Q., Yang, M., Mao, C. B. (2019) Bacteriophage-based biomaterials for tissue regeneration. Advanced Drug Delivery Reviews 145: 73-95.
Yang, M., Sunderland, K., Mao, C. B. (2017) Virus-derived peptides for clinical applications. Chemical Reviews 117: 10377-10402.
Sunderland, K., Yang, M., Mao, C. B. (2017) Phage-enabled nanomedicine: from probes to therapeutics in precision medicine. Angewandte Chemie International Edition 56: 1964-1992.
Cao, B., Yang, M., Mao, C. B. (2016) Phage as a genetically modifiable supramacromolecule in chemistry, materials and medicine. Accounts of Chemical Research 49: 1111-1120.
Zhou, X., Cao, P., Zhu, Y., Lu, W., Gu, N., Mao, C. B. (2015) Phage-mediated counting by the naked eye of miRNA molecules with attomolar concentration in a Petri dish. Nature Materials 14: 1058–1064.
Wang, J., Yang, M., Zhu, Y., Wang, L., Tomsia, A. P., Mao, C. B. (2014) Phage nanofibers induce vascularized osteogenesis in 3D printed bone scaffolds. Advanced Materials 26: 4961- 4966.
Gandra, N., Wang, D., Zhu, Y., Mao, C. B. (2013) Virus-mimetic cytoplasma cleavable nanoclusters for enhanced gene delivery to mesenchymal stem cells. Angewandte Chemie International Edition 52: 11278-11281.
Qiu, P., Jensen, C., Charity, N., Towner, R., Mao, C. B. (2010) Oil phase evaporation induces self- assembly of hydrophobic nanoparticles into spherical clusters with controlled surface chemistry in an oil-in-water dispersion and comparison of behaviors of individual and clustered iron oxide nanoparticles. Journal of the American Chemical Society 132: 17724- 17732.