Biographical Information: I received my Bachelor's degree in Biology in 1998 from Oklahoma Baptist University in Shawnee, OK; then got my MS in Zoology from the University of Oklahoma in 2002. Since then, I've worked at OU in the Biology departments (teaching Intro Zoology, Intro Zoology lab, Field Ecology and Entomology, this class, and advising Zoology majors), as the director of OU's Student Learning Center, worked for the Chemistry Department at University of North Carolina (Chapel Hill), and am currently the director of experiential learning at the University of Central Oklahoma. On the side, I also do some webpage management and work on Biology textbook supplements for a publishing company.
My Master's degree focused on frog physiology and ecology, studying the combination of body temperature and hydration that allowed cricket frogs to achieve maximum jump performance (a predator avoidance tactic).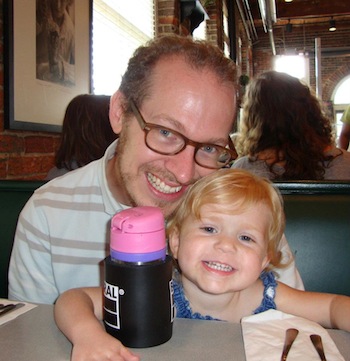 Me and my youngest in Durham, NC during a biology
conference in summer 2012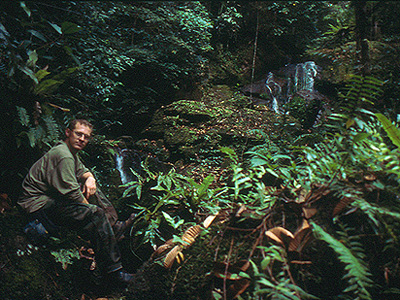 Here I am in my favorite biome, the tropical rainforest. I am also in one of my favorite places on earth: Madagascar. This was during a research trip in 2001.
My continued biology interests lie in research on technology in the biology classroom, online teaching, and effective teaching of introductory biology in lecture and lab (hence my involvement with the Association for Biology Laboratory Education). Another interest of mine continues to be Madagascar (conservation, culture, amphibians). I serve on the board of directors for a non-profit organization that seeks to improve the quality of life for Malagasy people. Hopefully, my future career continues to involve helping undergraduates learn, teaching biology, and taking research or teaching trips to Madagascar!

Beyond the activities above, I enjoy spending time with my family, traveling, eating and cooking yummy foods, and I'd like to get back into racquetball and playing my flute.
Communication: I check my ou.edu email pretty regularly on weekdays and a little less often on weekends, so feel free to email me with any questions or comments. If you'd prefer to call or meet online, we can set that up as well.