Soils with "like" characteristics are color coded for easy viewing. The Soil Attribute Table (right) represents the coding table for the soil associations (soil names) and 4 of the many possible (value added) example maps.

Each table "column" is a different, (unique)..., color coded map, where the colors (and soil characteristics) on the soil maps are coded to match the colors (and soil characteristics) in the soil table.

One can quickly determine which areas are suitable for particular land uses. For example, one can determine which areas to avoid building structures because the area is low lying and susceptible to flooding.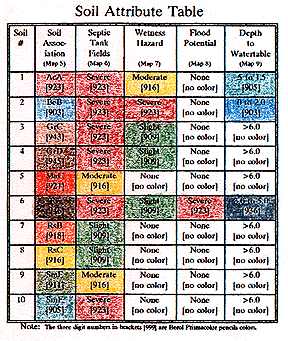 Note: The three digit numbers in brackets [999]
are Berol Prismacolor pencils colors.